Make written material easy to read, understandable
Plain language documents suitable for 80%
What makes educational material a must-read? The key is to make documents easy to read and understand, says Doug Seubert, guideline editor in Quality Improvement and Care Management at Marshfield (WI) Clinic.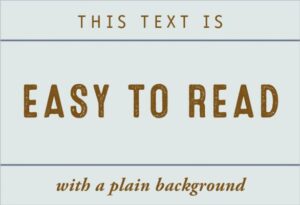 "You can have a document that is easy to understand, all the medical terms are defined, and there are even good diagrams that 'show' what the text is 'telling.' However, if the font is too small, there is little white space, and the information is not broken into sections, it may be too hard to read and the majority of patients won't even try reading it," explains Seubert.
The reverse is also true. A document that has a larger font, uses white space and bullet points to break up the text, and is in a two-column layout may have medical terms that are not explained and long, wordy sentences that make it difficult for most people to understand, he adds.
"If a pamphlet looks hard to read, people will not read it. If they try to read material and find long words and medical jargon, it is difficult for them to get through, or they don't see how the information will help them, they will throw it away," says Sandra Cornett, PhD, RN, director of the OSU/AHEC Health Literacy Program at The Ohio State University in Columbus.
Effective educational materials must be easy to read and easy to understand-the two cannot be separated, says Linda Benn, RN, BScN, patient education coordinator at QEII Capital Health in Halifax, Nova Scotia, Canada.
Easy-to-read material is written in plain, everyday language and flows well from one topic to the next. The content is of interest to the reader. Easy to understand applies to comprehension and whether the reader can explain what he or she just read-for example, if he or she can list the steps in correct order for drawing up insulin, explains Benn.
Written materials that are easy to read share several characteristics, and the same is true of articles that are easy to understand.
What do easy-to-read materials have in common?
Reading grade level is part of the process of making a document easy to read. Readability formulas are used to help assess the reading difficulty, which has to do with such factors as the number of syllables in a word and the number of sentences in a paragraph, says Cornett.
Grade level only a beginning
"Reading grade level is a good start, but readability is more than that. You can put together gobbledygook made up of short words and sentences, and have a very low reading grade level but a useless document," says Janet Sorensen, a writer for the Arkansas Foundation for Medical Care in Little Rock.
Design elements contribute to readability, she adds. Use a 12-point font or larger if readers may be visually impaired. Serif fonts, such as Times New Roman, work well for the body of the text, because these fonts are easier to read. San serif fonts, such as Arial, can be used for headings and subheads.
White space, or areas without text, add to the readability of written material. "It's recommended that 30% to 50% of a document should be white space. This includes margins, spaces between paragraphs and lines of text, and space around graphics and photos," says Seubert.
The length of the lines of text on a page impacts the readability of a document. Lines of text that span across the page make a person's eyes work harder as he or she reads. On a standard 8.5″x11″ page, a two-column layout is recommended, or the margins on a single-column layout should be increased so the lines of text are between 50 and 70 characters, says Seubert.
Breaking the information into sections or "chunks" makes a document easier to read, because the eyes can scan the document and focus on each section. Using lists helps break up text and makes key points stand out. "Lists can be bulleted or numbered. Numbered lists should be used for directions or instructions that require a series of actions that must be done in order," says Seubert.
Design should not be an afterthought but part of the entire writing process, says Cornett. How the information is to be structured with subheads and sections makes the information more readable.
Layout and design also can make a document easier to understand. Subtitles help guide the reader to the important information. Organizing the material under subtitles also will help the writer limit the information to three to five important points. "Too much information is overwhelming, and the reader will not remember any of it," explains Cornett.
In order for headings and subheadings to be useful, they must be written clearly, so readers can find the information they want. "Labeling a section 'symptoms' or 'what to do' may not be clear to the reader. Headings should serve as a summary of what is covered in that section," explains Seubert.
One of the most effective ways to write clear headings is to use the question and answer format, he says. For example:
What is high blood pressure?
What causes high blood pressure?
How is high blood pressure treated?
This technique helps the writer focus on one key piece of information at a time and provides natural breaks in the document to separate the sections. Also, it helps readers scan through the document and find the information they need.
Creating understandable content
To make sure documents can be understood by the reader, they must be written in plain language. This is clear, simple, direct writing using only as many words as necessary to state a point.
"Plain language also avoids jargon and instead uses common words that are easier to understand," says Seubert.
For example, "chest pain" is used instead of "angina." Yet authors need to make sure medical jargon does not creep into the text. "Often I see words like 'chronic' and 'acute' used in a document without being defined. Or a phrase like, 'Call your doctor if your child exhibits any of the following symptoms.' Since the majority of health information for patients is written by health care professionals, it's easy to slip into medical jargon without even knowing it," says Seubert.
Words like 'consistent,' 'observation,' 'modify,' and 'intake' are common in health care documents and writers need to watch for them, determine if they are necessary and if there are easier alternatives, he adds.
"The words, even the one-syllable words, need to be familiar to your audience. If they're not, and you must use them, define them as clearly and simply as possible," states Sorensen.
Medical terms do not need to be included in the text if there is a common term that means more or less the same thing, continues Sorensen. For example, "heart attack" can be used rather than "acute myocardial infarction." If a medical term is used, it needs to be defined as clearly as possible. "The definition might need to be a separate sentence to keep the sentence from getting cumbersome," she adds.
Benn states that she often uses a definition with a medical word or difficult word she cannot eliminate or change, because doing so would change the intent of the brochure.
Cornett says she likes to put the lay term first in the sentence with the medical term afterward; however, she does not place it in parentheses because people with limited literacy do not always understand that grammatical practice. Instead she would write: "a heart attack, or what some doctors call an acute myocardial infarction." In this way, the reader would not stop at a medical term he or she is not familiar with, and when the word does come up in the sentence, the reader can skip the word without altering the meaning of the text.
When writing content, keep the tone friendly and involve the reader using pronouns such as 'you', 'we,' or 'us,' advises Benn.
A personal approach draws in the reader, agrees Seubert. Instead of writing, "People with diabetes should examine their feet every day," write, "Because you have diabetes, it is important to check your feet every day," he explains.
It's also important to write in active voice rather than passive voice, he adds. Active voice is more direct: "Your doctor may prescribe some medicine to help control your blood pressure." Written in passive voice it might read: "In order to help control your blood pressure, some medicine may be prescribed by your doctor."
Photos, diagrams, and drawings help to explain the text as well, says Seubert. However, any photos or drawings that are used should be labeled and placed close to the appropriate text in the document.
Surveys show that people of all education levels prefer information that is clear and easy to understand. Therefore, documents written in this manner will be suitable for about 80% of a patient population. This is the concept of universal design, explains Seubert.
"Universal design is fairly prevalent in our society, and we often take it for granted. Handicapped-accessible doors at grocery stores and other public buildings are a good example. They provide access to everyone equally, and we all benefit from the convenience," states Seubert.
Therefore elements that make documents easy to read and easy to understand can be universally applied to health care information, and as a result handouts will fit the majority of patients.